Air Fryer Frozen French Fries are the quickest way to make the best perfectly crispy fries. Easily make frozen fries in air fryer with this ultimate fry guide. Air frying fries will be your new favorite go-to method for cooking them.
Crispy Air Fryer Fries are such an amazing side dish that go with so many things, eat them with lunch or dinner or as a tasty snack. If you love easy potato side dishes, then you must try our Salt & Vinegar Smashed Potatoes or Mashed Sweet Potatoes! This much loved side dish pairs perfectly with potatoes.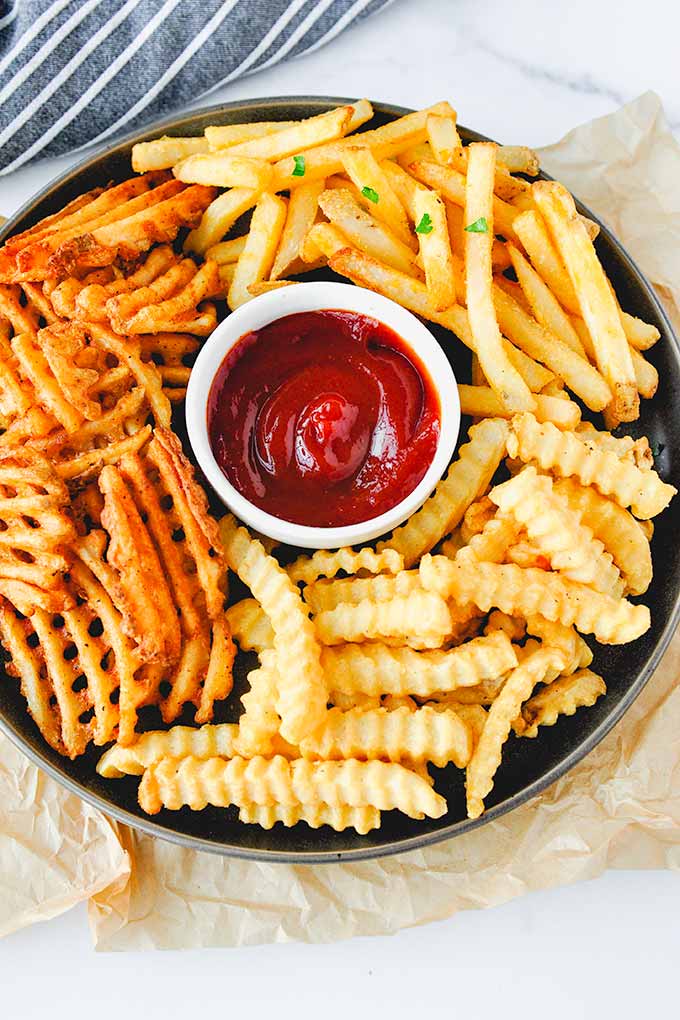 Frozen French Fries in the Air Fryer
I am a long time lover of the french fry! I think most people are. There is just something about them, am I right?
Perfect crispness on the outside and tender, softness on the inside. The hamburger's favorite accompaniment!
There is nothing better than hot, salty fries served up with a delicious dip. Now you can make your own delicious fries right in your own kitchen in the air fryer in half the time it takes to bake them in the oven and healthier than in the deep fryer.
I absolutely love my air fryer. I am sure you will hear this from just about anyone who owns one. The best way to get crispy French fries in with the hot air of the air fryer.
The air fryer makes some great original recipes like this air fryer chicken breasts, naked chicken tenders, or homemade air fryer stuffed pork chops with better results than an oven. I like the size of mine, its 5.8 quart air fryer, the basket style, it's big enough to cook a bunch of fries for my whole family.
One of the best things about this recipe is if I need more fries, it's easy to just add in more fries and cook them up. Every time is a good time for fries!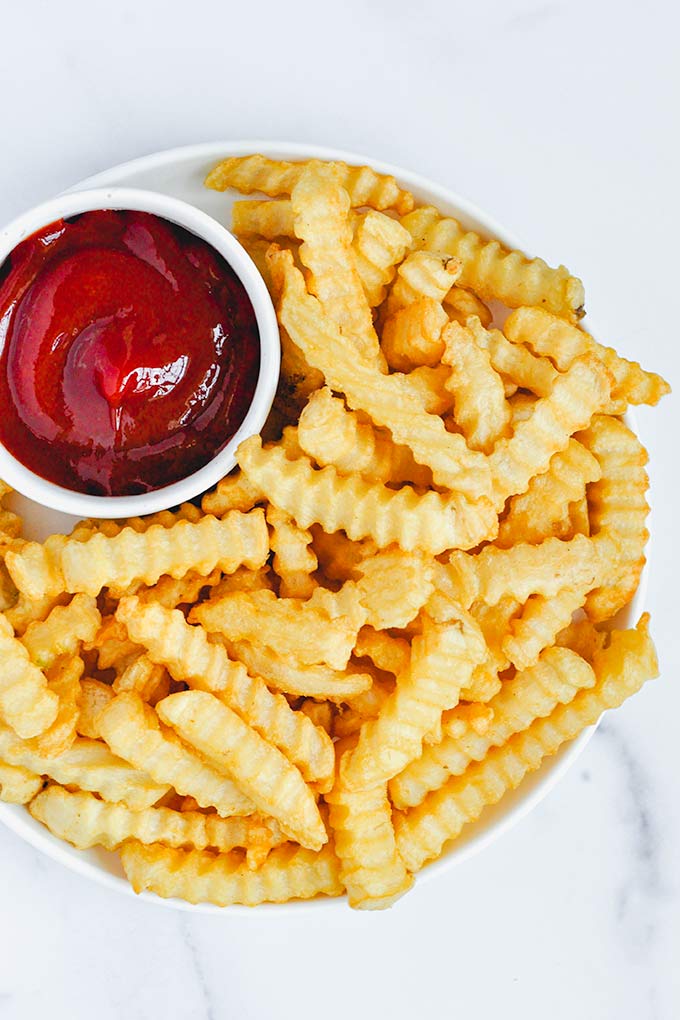 Why this Recipe is a Total Winner
Healthier option to deep frying.
You can use different cuts of french fries.
Using just a traditional air fryer and get the best french fries.
Can You Cook Frozen French Fries in an Air Fryer?
You may be wondering if you can put frozen french fries in an air fryer. Of course you can, that is what this guide is all about!
Read on further for all of the top tips you need to make perfect fries that taste like your favorite fast food fries. Or skip all the way to the bottom for the actual cooking times on the recipe card and more great recipes.
Are Frozen French Fries Healthy?
I am going to have to go with a no on this one. Frozen french fries are still fried and have enough oil in them. They are usually cooked twice before arriving at your local grocery store.
First, they get parboiled and then they are fried before going through the freezing process. But, if you normally have deep fried french fries, then the air frying method is definitely a healthier method. I don't recommend adding much oil to these, but if you do you only need a light coat of oil.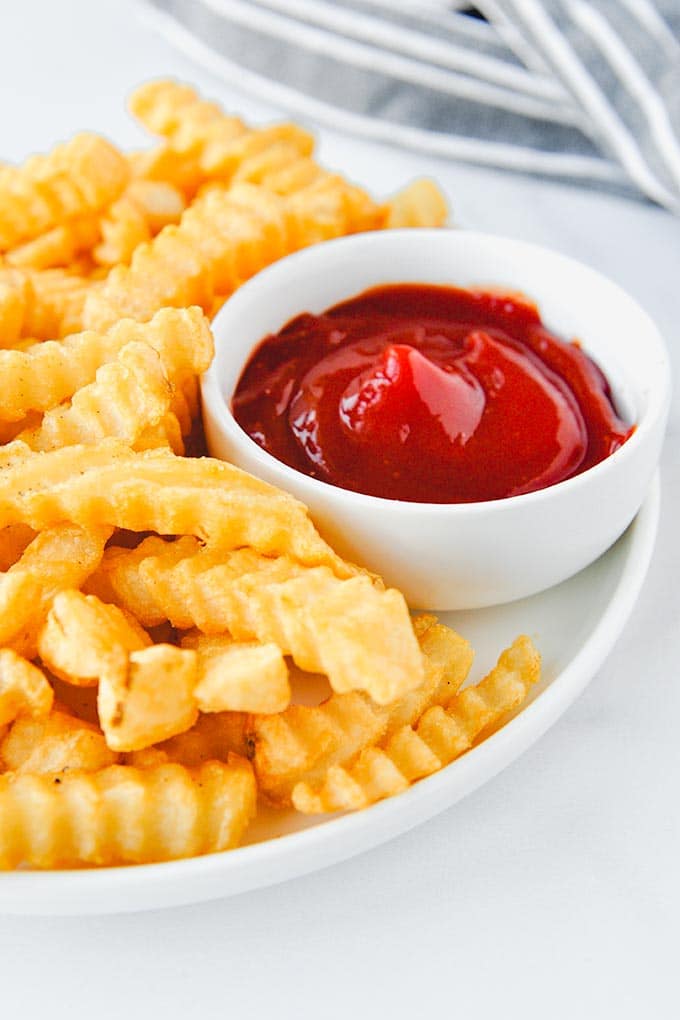 Air Fryer Frozen Fry Ingredients
This is a super simple recipe and it obviously only needs a few ingredients to make. You'll always want to keep a few bags of frozen fries in the freezer, so that you can make these when ever you want them.
Frozen French Fries: Any kind of frozen fries will work, but some of the times may will differ. I used regular fries, steak fries, and crinkle fries. Times are listed below.
Salt: Adding salt is optional, add it right before serving it will really bring out the flavor of the fries. If your fries are already pre-salted (check the nutritional label) you probably won't need extra salt. I would taste before adding.
Pepper: Adding pepper is optional, but freshly ground pepper really
Favorite Seasonings: Any additional seasonings are optional. I included a list of options to try.
Oil: I don't use any extra oil, but you can use a little oil if you want. Make sure you use 100% cooking oil in an oil sprayer (I like olive oil), or else it may ruin your fryer. I don't recommend spraying cooking spray in your air fryer, it will damage the coating.
Favorite Sauce: Serve these fries with your favorite dipping sauce or a big bowl of ketchup.
How to Make Frozen French Fries in Air Fryer
You will be eating the best, crispy fries in almost no time! The full recipe instructions are in the recipe card at the bottom of this post.
Preheat the air fryer (unless your air fryer doesn't require it). If not, set temperature and move to step 2.
Add fries into the air fryer basket (no more than half full) and close it.
Halfway through cooking time, open the tray and shake the fries around.
Season cooked fries if needed (some options are listed below).
How Long do You Cook Frozen French Fries in Air Fryer?
All of the air fryer cooking times for frozen french fries are listed below in the recipe card. In an air fryer that has a basket, frozen fries will cook in 15 minutes or less.
How many Calories in French Fries?
The amount of calories in your french fries will depend on which brand and type of fries you purchase (and if you add oil when you cook these). Also, make sure to add in calories for dipping sauces that you use. Here is a general guideline for nutritional information for the fries that I used.
Frozen Crinkle Fries: These fries had about 90 calories for a 3 oz serving, that's only about 10-13 fries.
Frozen Straight Fries: These straight fries have 130 calories for about 15 fries.
Frozen Waffle Fries: Waffle fries have 110 calories for about 8 fries.
Frozen Steak Fries: Steak fries are 110 calories for 10 fries.
Frozen Shoestring Fries: Shoestring fries are 140 calories for 3 ounces.
Frozen Sweet Potato Fries: A 3 ounce serving of these fries is 140 calories.
Commonly Asked Questions
Do I Need to Defrost Frozen French Fries? Nope, you do not need to defrost french fries before air frying them. Actually, make sure you don't defrost them or they can overcook.
Do You Preheat Air Fryer for Frozen French Fries? So, whether you preheat your air fryer or not really depends on the air fryer that you have. Read the manual that came with your air fryer to figure it out.
Why Air Fry Frozen French Fries? It takes about half the time to cook frozen french fries in the air fryer than in the oven. That is one of the main reasons I love cooking with the air fryer. They also end up tasting like they have been deep fried, without the guilt. If you want to make your own fries, check out this homemade fries recipe.
Air Fryer French Fries Burning? If you find that your fries are burning, lower the temperature on your air fryer or drop french fries time of cooking.
Seasoning for Frozen French Fries
The seasonings I've listed below are completely optional to add. If the fries you are using are already seasoned or salted (like a lot of curly fries) you won't need to season them at all. What are your favorite fry seasonings?
Seasoning Salt: Seasoned salt is my go-to seasoning for french fries.
Lemon Pepper: This will add a lemony but peppery tang to your fries, mmm…it's making my mouth water.
Salt & Pepper: Sometimes just good ol' salt and pepper is all you need. The frozen fries may not need more salt, but freshly ground pepper on fries is so good.
Garlic Powder: I like to put garlic on all of the things, so of course it will be good on fries.
Onion Powder: Add a sprinkling of onion powder on its own or mixed with other flavors.
French Fry Dipping Sauce
I think french fries taste amazing all on their, but I'm a sauce girl so I like to have lots of dippy options. Of course, this is just a small selection. I'm sure the list goes on and on! What's your favorite dip for french fries?
Ketchup: An oldie but a goodie. This classic, red dip has always been a french fries best friend.
Magical Aioli: Ok, this is like the KING of dips. Not technically a dip I don't think, but it's AMAZING and tastes so perfect with fries. If you love garlic, it's a must try!
Chick-fil-A Sauce: Try this make at home recipe for this famous sauce.
Chipotle Mayonnaise: A mayonnaise that is spiced up with smokey chipotle peppers.
Ranch: One of my absolute favorite sauces out there for fries. If you have never tried ranch with fries, go do it.
Cheese Dip: Beer cheese dip tastes so great with french fries, try this cheesy goodness.
Barbecue Sauce: So many great tasting options out there, go with your favorite.
Frozen French Fry Recipe Tips
No added oil. You don't need to use any oil on these fries. If you would like to add oil, use a little spray bottle to put a very light spritz on the fries.
Fry texture. If you like crispier fries, you will want to add a minute or two to the cooking time. Or less time for softer fries.
Different sized fries. Thicker fries will need to cook longer, while thinner fries will cook quicker.
Don't overlap too much. You want to make sure to you don't overfill the basket or the fries will not cook evenly. For best results keep the fries in a single layer, but some overlap is ok.
Taste test. Taste your fries after cooking before adding salt. A lot of frozen fries are already pre-salted and you wouldn't want to make them inedible. If you want to salt your fries make sure to salt them after cooking, not before cooking.
Shake basket. Halfway through the cooking time, shake the basket well to flip the fries around as much as possible.
Different cook times. Different brands of air fryers cook differently. Depending on the size of your air fryer and how full the basket is the fries may need more or less cooking time
Storage Instructions for Fries
How to Refrigerate: Let the fries cool and put in a glass container or airtight container or zipper bag. They should last about 3-5 days in the fridge, but will not be nearly as fresh. Prepared pretzel bite dough can be stored in the fridge for a day.
How to Freeze: I do not recommend re-freezing frozen french fries that have been cooked.
How to Thaw: Make sure that you do not thaw out the french fries before air frying them.
How to Reheat: Reheat cold fries in the microwave for a few seconds at a time until desired warmth is reached. Or re-cook in air fryer at 350 degrees F for 3-4 minutes, shake the basket at the halfway point.
Try these other frozen air fryer recipes!
If you've tried this air fryer frozen french fries recipe, don't forget to give me a star rating and leave me a comment in comment section below. I love to hear from people who have made my recipes!
NEVER MISS A RECIPE!
Follow me on social media for more recipe ideas & inspiration!
Print Recipe
Air Fryer Frozen French Fries
Air Fryer Frozen French Fries are the quickest way to make the best perfectly crispy fries. Easily make frozen fries in air fryer with this ultimate fry guide. Air fryer fries will be your new favorite go-to method for eating them.
Ingredients
1

pound

frozen fries

salt

optional

pepper

optional

seasonings

optional
Instructions
Preheat air fryer to 350° F.

Place frozen fries into the basket.

Cook fries for 10-15 minutes. Halfway through cooking time, pull out the basket and shake the fries around. Really try to get the fries mixed around.

Place cooked fries in a bowl. Sprinkle with salt or seasonings and serve.
Notes
Fry Cook Times
Crinkle Cut Fries: 12-15 minutes
Straight Cut Fries: 10-12 minutes
Waffle Cut Fries: 10-12 minutes
Steak Cut Fries: 12-15 minutes
Shoestring Cut Fries: 8-10 minutes
These fries do not require any added oil.
Make sure not to add too many fries to the basket. I usually use about half a bag at a time.
If you like crispier fries, you will want to add a minute or two to the cooking time. Or less time for softer fries.
Thicker fries will need to cook longer, while thinner fries will cook quicker.
Cooked fries will last about 3 days in the refrigerator in an airtight container.
* Please note that all nutrition information are just estimates. Values will vary among brands, so we encourage you to calculate these on your own for most accurate results.

 
Nutrition
Calories:
295
kcal
|
Carbohydrates:
34
g
|
Protein:
3
g
|
Fat:
17
g
|
Saturated Fat:
5
g
|
Sodium:
556
mg
|
Potassium:
488
mg
|
Fiber:
5
g
|
Vitamin C:
7
mg
|
Calcium:
10
mg
|
Iron:
1
mg
Did you make this recipe?
Please let me know how it turned out!
If you've tried this or any other of my recipes, don't forget to rate the recipe below and leave me a comment. I love hearing from you! Share a picture on Instagram and hashtag it #homecookedharvest.