Crispy Salt and Vinegar Smashed Potatoes are finished with a sprinkling of vinegar and sea salt to really bring out the flavors. These salty smashed potatoes are simple to make, and crave-able.
Salt and vinegar potatoes make the perfect side dish for brunch, lunch, or dinner. They would be the perfect accompaniment to Tuna White Bean Casserole, Air Fryer Chicken Breast, or Greek Yogurt Chicken Breast. And don't forget to make decadent Snickerdoodle Bars with Cinnamon Frosting or these big puffy Fluffernutter Cookies for dessert!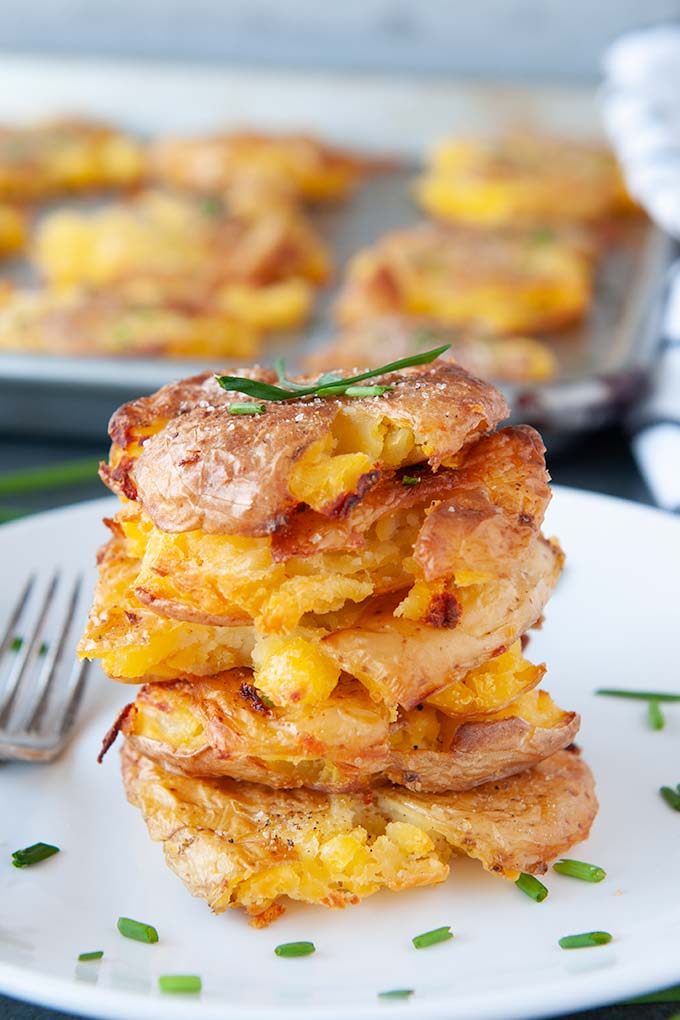 Vinegar and Salt Potatoes
My daughter is OBSESSED with vinegar!! Which really isn't surprising since she was dubbed "The Condiment Queen" when she was just a little thang, just barely past eating baby food. She'll put vinegar on lots of things….rice, pasta, vegetables.
I can't say anything, because I love it too!! Just probably not as much as she does.
I especially love it in salt and vinegar potato chips. If you haven't had them, they are thin and crispy chips that are super zingy. They kinda make your face do that squinched up thing because they are so sour.
The only downfall is that those chips aren't the healthiest and I could eat the whole bag * insert drooling face emoji here.* These salt and vinegar potatoes taste like those chips. Crisp and crave-able.
But, since these potatoes are baked rather than fried, they are a healthier version. And plus they are a "veggie," right?? Bring on all of the potatoes! These are delicious, salty potatoes.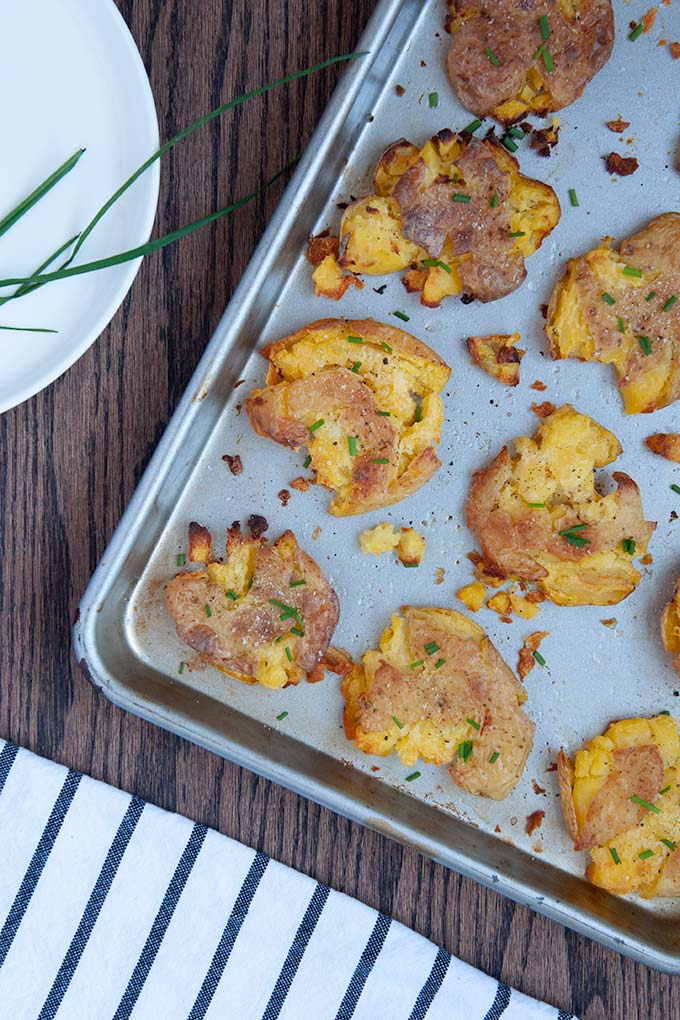 I am a huge fan of potatoes…pretty much ANY way they get prepared, I will eat them and love them.
Vinegar Potatoes
This simple recipe takes regular ol' potatoes and turns them into spectacular! And these vinegary potatoes are made with just a few ingredients, most of which are pantry staples that you probably already have lying around. Easy stuff like olive oil, salt, and vinegar.
As I write this, my mouth is watering just from thinking about the salty-ness and vinegary-ness (is that a word?? lol) of these scrumptious potatoes. They are definitely drool worthy.
What are Smashed Potatoes?
Smashed potatoes are whole baby potatoes that are boiled, then smashed with something flat. They are baked with their skin on so they get a little crispy and the soft insides are squished out.
These potatoes are super easy to make. Simply boil them with good amount of vinegar and some salt. Then they get SMASHED and baked in the oven to make them a bit crispy. The potatoes get flipped over once * to get good and crispy on both sides * then topped off with more vinegar, flaky salt, fresh pepper, and chives for a little color and flavor.
The best part about these potatoes is that they are gluten-free and vegan (just switch out the little bit of butter for olive oil).
These potatoes are so full of flavor and so easy to make, but they do take a little longer to make.
Salt and Vinegar Potatoes Ingredients
Potatoes: Small gold potatoes.
Vinegar: I used distilled white vinegar. You could also try apple cider or malt vinegar.
Butter: Unsalted butter.
Salt: Coarse sea salt.
Olive Oil: Extra-Virgin olive oil
Pepper: Freshly ground black pepper.
Chives: Chives for topping are optional. You could also use thinly sliced green onions.
How to Make Salt and Vinegar Potatoes
Rinse and gently scrub up those little potatoes.
Boil the potatoes till they are tender, then drain and put back in their pot, coat with the butter.
Lay potatoes out on a baking sheet and gently smash.
Bake them, flip them and drizzle on olive oil, bake them again.
Top them with more vinegar, sea salt, pepper, and chives.
Salt and Vinegar Smashed Potato Tips
Try these tips and tricks for the best outcome for your very own delicious salt and vinegar smashed potatoes.
Try out different vinegars.Try topping these with apple cider vinegar or malt vinegar after they have baked. You will probably still want to use white vinegar to boil the potatoes.
Different potatoes. I used small, round, gold potatoes but you could use white potatoes, red potatoes, new potatoes, or a mixture.
Use a brush. You can use a basting brush to apply the vinegar after the potatoes come out of the oven.
Smash potatoes with a heavy object. Gently smash the potatoes with a heavy can of beans, a large flat-bottomed coffee cup, or a potato masher.
Add salt, but not too much. Top the baked potatoes with plenty of salt, be sure to taste before adding too much.
Easy cleanup. Lining the baking pan with parchment paper allows for easier cleanup, but cooking directly on the baking pan will result in crispier potatoes.
Serving size. This recipe makes 4 servings of potatoes, which is about 4 smashed potatoes per person. If you double this recipe you will need to use multiple baking pans. You should be able to cook both pans of potatoes in the oven at the same time but baking time will be longer.
Storage Instructions for Salt and Vinegar Smashed Potatoes
These salt and vinegar potatoes are best served hot and fresh right off the pan. If you happen to have any leftover (we never do, ha!) then follow these directions on how to store smashed potatoes.
How to Refrigerate Smashed Potatoes: Let the potatoes cool and put in a glass container or BPA-free airtight plastic container or zipper bag. They should last about 4-5 days in the fridge.
How to Re-Heat Smashed Potatoes: Bake the potatoes in the oven at 450 degrees until they are heated through.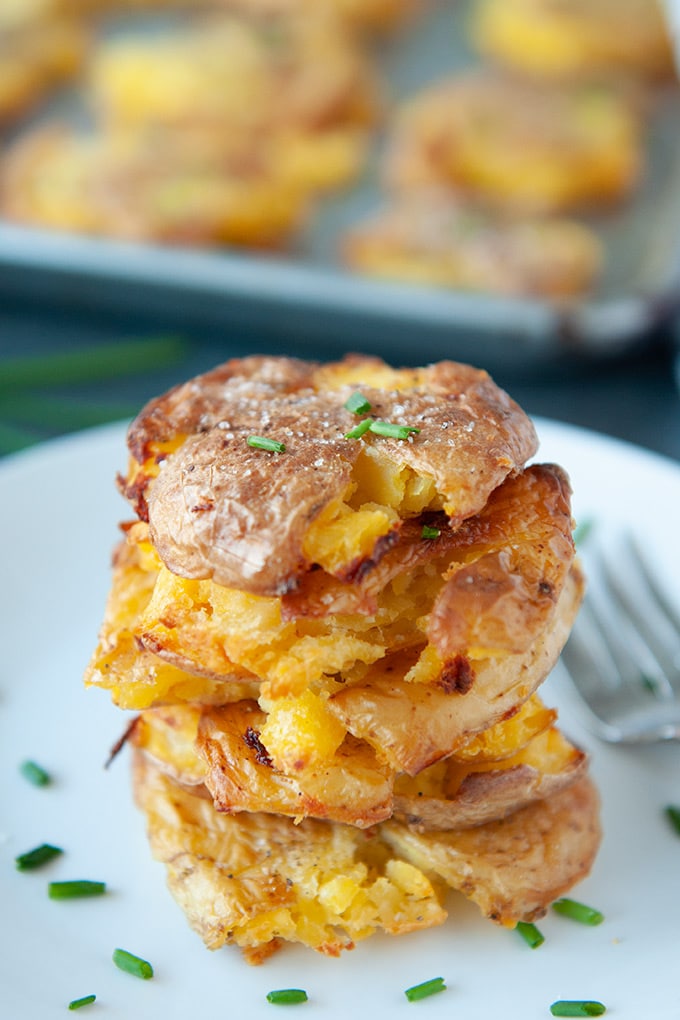 Try these other yummy side dish recipes!
NEVER MISS A RECIPE!
Follow me on social for more recipe ideas & inspiration!
Print Recipe
Salt and Vinegar Smashed Potatoes
Tangy Salt and Vinegar Smashed Potatoes are finished with a sprinkling of vinegar and sea salt to really bring out the flavors. These smashed potatoes are simple to make and crave-able.
Ingredients
1.5

pounds

baby potatoes

1

cup

distilled white vinegar

1

tablespoon

coarse sea salt or kosher salt

plus more for topping

1

tablespoon

butter

1

tablespoon

extra-virgin olive oil

1

tablespoon

chives

thinly sliced, optional

1/4

teaspoon

freshly ground black pepper

2

tablespoons

vinegar

white, apple cider, or malt
Instructions
In a medium saucepan, combine together whole potatoes, cup of vinegar, and 1 tablespoon salt.  Add water to cover the potatoes by 2".  Bring the water to a boil, then reduce the heat down to simmer, cooking potatoes for about 20 minutes.

About 10 minutes into boiling the potatoes, pre-heat the oven to 450 degrees. Cover a baking sheet with parchment paper.

Continue cooking potatoes for another 10 minutes. Poke them with a fork to check for doneness, they should be just tender.

Drain potatoes and return to pan to dry. Coat the potatoes with the butter. Lay potatoes out on the lined baking sheet. Using a heavy mug, gently smash each potato to 1/2" thick.

Bake the potatoes for 20 minutes.

Turn each potato over and drizzle with olive oil. Return to oven for an additional 20 minutes.

Broil potatoes for a minute or two on high to get extra crispy. Be sure to pay close attention so they do not burn.

Take out of oven and top with 2 tablespoons of vinegar, chives (if using), sea salt, and pepper.
Notes
Gently smash the potatoes with a heavy can of beans, a large flat-bottomed coffee cup, or a potato masher.
You can use a basting brush to apply vinegar to the baked potatoes.
Store any leftovers in an airtight container in the fridge for 4-5 days.
* Please note that all nutrition information are just estimates. Values will vary among brands, so we encourage you to calculate these on your own for most accurate results.
Nutrition
Calories:
244
kcal
|
Carbohydrates:
40
g
|
Protein:
5
g
|
Fat:
7
g
|
Saturated Fat:
2
g
|
Cholesterol:
8
mg
|
Sodium:
1784
mg
|
Potassium:
955
mg
|
Fiber:
5
g
|
Sugar:
2
g
|
Vitamin A:
120
IU
|
Vitamin C:
45
mg
|
Calcium:
31
mg
|
Iron:
2
mg
Did you make this recipe?
Please let me know how it turned out!
If you've tried this or any other of my recipes, don't forget to rate the recipe below and leave me a comment. I love hearing from you! Share a picture on Instagram and hashtag it #homecookedharvest.