Toast in the Air Fryer results in perfectly browned bread that's crisp and delicious in just minutes! It's so easy to make toast in air fryer, why would you make it any other way?
We love making amazing and simple recipes like toast in an air fryer! Another quick and easy recipe is our Air Fryer Chicken Breast without Breading, cooks in under 20 minutes. Or make Air Fryer Frozen Breaded Popcorn Shrimp, for a delicious dinner idea.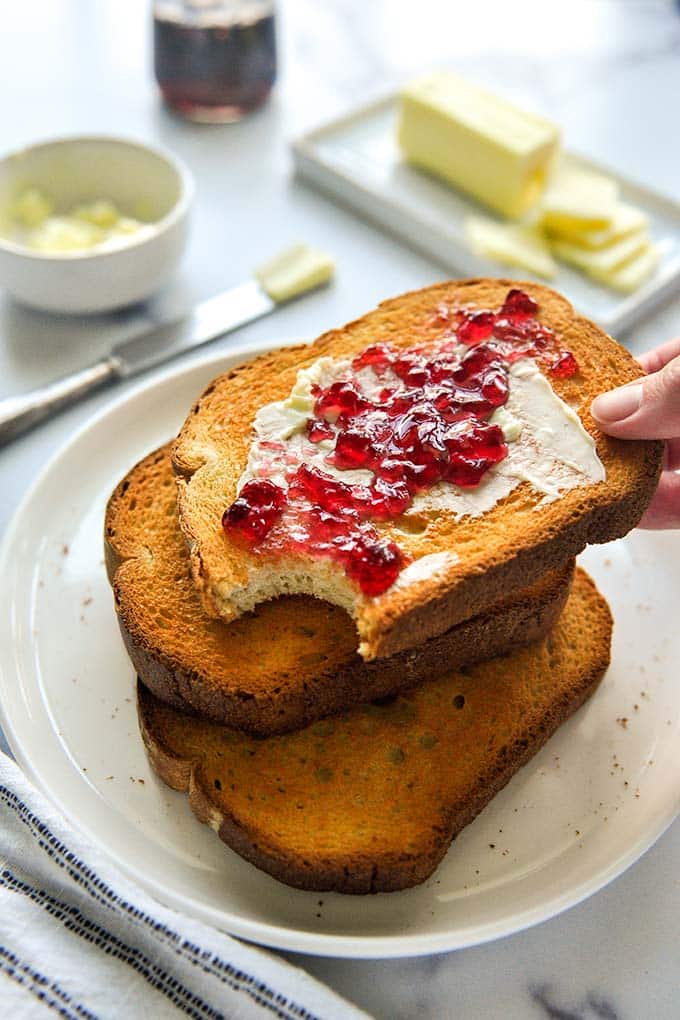 Air Fryer Toast
Throw out your toaster! Throw out your toaster oven! Ok, maybe not literally.
When you have an air fryer, it really isn't necessary to keep your toaster anymore. The air fryer makes the best toast bread.
But, if you are anything like me, the toaster will end up stored in the pantry gathering dust because you have had one your whole life and it just doesn't feel right to get rid of it. Right?
The air fryer I use is the Cosori 5.8 quart, this one is the has the basket and not the air fryer oven type that opens in the front. My air fryer happens to have a toast button right on the front of it, but I realize not all air fryers are created equal. If your air fryer is missing the toast function, don't fret, you can still make toast bread recipe in it.
Toasting Bread in Air Fryer
The basket of my air fryer is square so I can fit 4 normal slices of sandwich bread or two-three larger slices of bread in it.
If you like put a thin amount of butter on one side of the bread before cooking to have it really soak into the bread while it's cooking. Regardless of the type of air fryer you are using, you do not need to preheat it to make this toast recipe.
Maybe you are a (or parent of a) college student or military member in a dorm room and you are trying to decide between buying a toaster and an air fryer, buy the air fryer. Because guess what, you can air fry toast right your own dorm room!
It doesn't get much better than that.
Can you Make Toast in an Air Fryer
The air fryer just got more cool points (I know, was it even possible??)! If you are wondering if you can you toast bread in an air fryer? Of course you can! The air fryer is even better now that I know that you can make toast in it! And making toast in the air fryer is not only easy but it comes out perfectly browned every time.
Do I Need to use Parchment Paper for Air Fried Toast?
Normally I like to use parchment paper when I am making messy recipes in the air fryer such as cookies or biscuits. This toast recipe is not overly messy, so parchment paper liners are not necessary.
It is also a risk if you use them in this toast recipe because as bread cooks it gets lighter and sometimes the blower in the air fryer can blow the toast around. If the toast lifts off of the parchment it could possibly lift up and could come into contact with the heating element within the unit.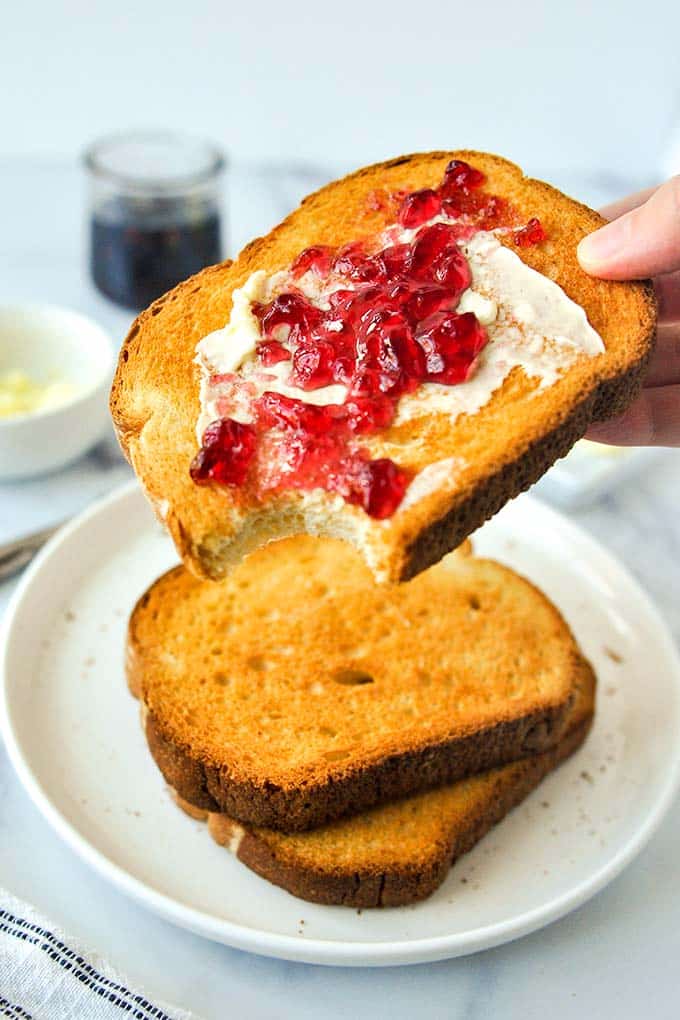 What to Serve With Air Fryer Toasted Bread
There are so many ways to use bread that's been toasted. I love using the toast to make sandwiches. Have a simple breakfast and make toast with some eggs and bacon. Or my favorite way to eat it is to serve it with some hot soup like cheddar broccoli soup or homemade lentil soup.
Toast Toppings
You definitely don't want to eat just plain, dry toast. Let's jazz it up with some delicious toppings! Choose your favorite toast topping ideas or check out this list.
Just some butter or margarine is perfection.
Jam, jelly, or preserves.
Any nut butter such as peanut butter, pecan butter, almond butter, sunbutter, or cashew butter.
A thin spread of hummus.
Make avocado toast (personal fave)!
A slice of cheddar cheese, pepperoncinis or banana peppers, and tomatoes slices.
A sprinkling of cinnamon and sugar.
What you Need to Toast Bread in Air Fryer
This air fryer recipe could not get any easier, only two things are really needed to make it.
Air Fryer: You will definitely need an air fryer to make toast in the air fryer.
Bread: This could be any bread, small sandwich sized bread or larger, thicker bread slices. You can also use homemade or store bought bread. You can use white bread, sourdough bread, wheat bread, gluten free bread, keto bread, even hamburger buns.
Toast Toppings: Add your favorite topping to the toast after it's cooked. List of ideas above.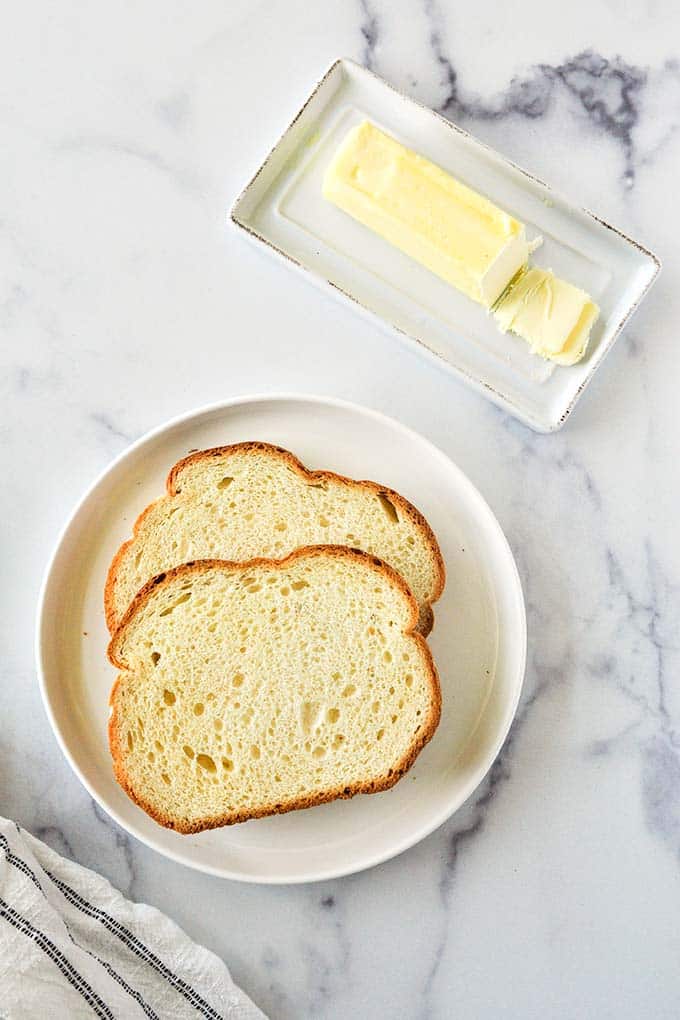 How to Make Toast in Air Fryer
How to toast bread in air fryer is so simple! These are the basic instructions but the recipe card has exactly what you need to do.
No need to preheat the air fryer, yay.
Open air fryer and place in 4 small or 2-3 large bread slices.
Cook the bread flipping over halfway if you like to have toast browned on both sides.
Carefully remove toast using tongs.
Top with favorite toppings.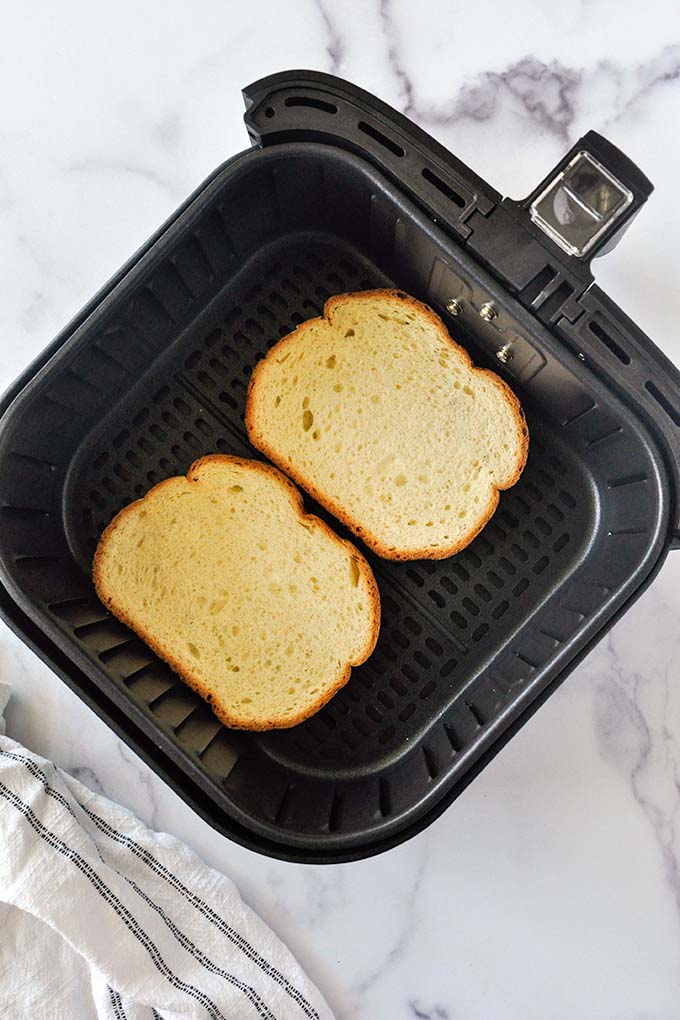 Best Toast in the Air Fryer Tips & Tricks
Babysit toast. Make sure to keep an eye on the toast until you know exactly how brown you like it. Don't be afraid to open the air fryer at any point to check on how done the food is.
Adjust cook time. Since every air fryer is different, the one you have may cook differently. Make sure to adjust the cook time to make sure toast doesn't get too dark.
Single layer. Make sure to keep bread in a single layer. If you layer the pieces on top of each other the bread will not cook evenly.
Make it garlic flavored. Make garlic bread by topping the toast with some garlic butter before cooking or slather it on a really thick slice of bread to make Texas toast.
Use tongs to retrieve toast. The air fryer will be hot so be really careful when you reach in for your toast, using tongs is your best bet.
Toasting both sides of bread. In my air fryer the toast only gets browned on one side, which is totally fine for me it's still crisp. If you want it browned on both sides just cook for 2 minutes, then flip toast over and cook for 1-2 minutes on the other side.
Frequently Asked Questions
Can I make toast in an Air Fryer? You definitely can! Make toast in the air fryer by following the recipe card below for exact instructions.
How to toast bread in Air Fryer? All you have to do to make toast in the air fryer is pop the toast in, flip if you desire, pull it out carefully, top with toppings, and enjoy!
Is toast healthy? Toast can be part of a healthy diet, especially if you make whole wheat toast and you don't eat a lot of it. It's not so healthy if you add a lot of butter or sugary jelly. Top it with some veggies or fruits for a healthier option.
How long to toast bread in air fryer? You only need to toast bread for a couple minutes until it comes out perfectly browned.
Can I use an air fryer as a toaster? Yes, you can and it makes perfectly toasted toast, bagels, or English muffins.
Can an air fryer replace a toaster oven? Most of the recipes that you make in a toaster oven, you can make in an air fryer, either the oven air fryer or the basket type. The air fryer toaster oven will hold more food than the basket type can.
How to Store Toasted Bread
Rather than tossing out left over toast, you can actually save it. Toasted bread is best kept in the fridge. Just let the toast cool completely and place into an airtight container or zip bag. It should last about 1-2 days in the refrigerator.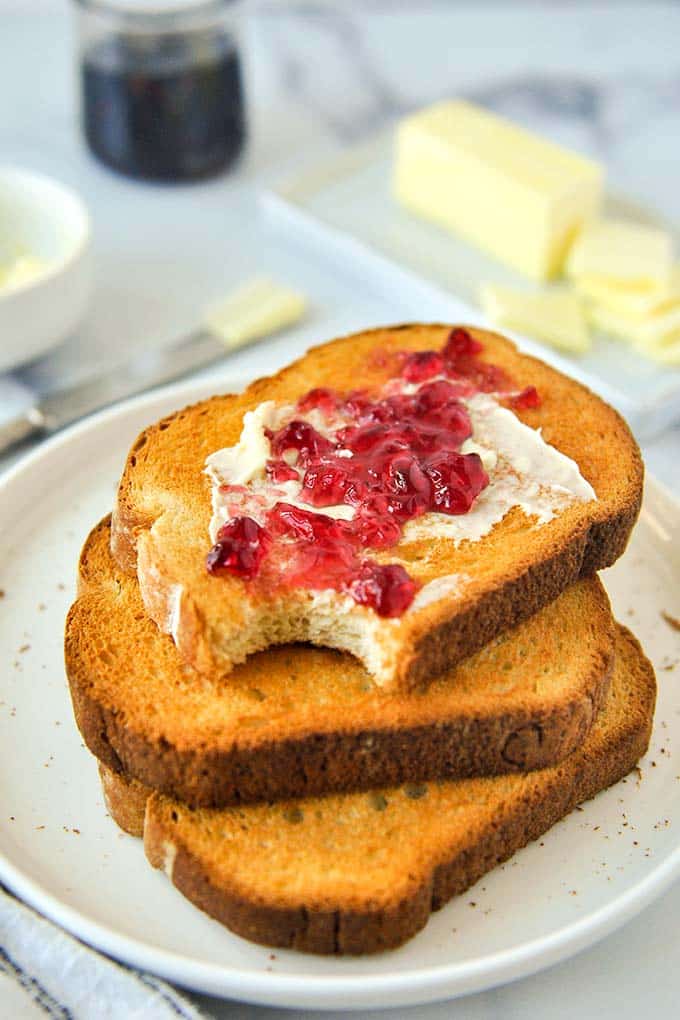 Try these other air fryer recipes!
NEVER MISS A RECIPE!
Follow me on social for more recipe ideas & inspiration!
Print Recipe
Toast in Air Fryer
Toast in the Air Fryer results in perfectly browned bread that's crisp and delicious in just minutes! It's so easy to make toast in air fryer, why would you make it any other way?
Equipment
Air Fryer

I use a basket type air fryer
Ingredients
2-4

slices

bread

favorite toppings: butter, jelly, peanut butter, avocado
Instructions
Add 4 small or 2-3 large slices of bread to the air fryer (does not need to be preheated).

Cook at 400°F / 204°C for 3 minutes for small bread. If you want the toast browned on both sides, flip toast over halfway through cooking. For thicker bread, you make want to cook it for 4 minutes. If you like your bread lightly toasted, cook for 30 seconds less. For more toasted add 30 seconds.

Top with your favorite toppings and serve.
Notes
* Please note that all nutrition information are just estimates. Values will vary among brands, so we encourage you to calculate these on your own for most accurate results.

 
Nutrition
Serving:
1
slice
|
Calories:
76
kcal
|
Carbohydrates:
14
g
|
Protein:
3
g
|
Fat:
1
g
|
Saturated Fat:
1
g
|
Polyunsaturated Fat:
1
g
|
Monounsaturated Fat:
1
g
|
Trans Fat:
1
g
|
Sodium:
145
mg
|
Potassium:
51
mg
|
Fiber:
1
g
|
Sugar:
2
g
|
Vitamin A:
1
IU
|
Vitamin C:
1
mg
|
Calcium:
39
mg
|
Iron:
1
mg
Did you make this recipe?
Please let me know how it turned out!
If you've tried this or any other of my recipes, don't forget to rate the recipe below and leave me a comment. I love hearing from you! Share a picture on Instagram and hashtag it #homecookedharvest.