Make this cozy Pistachio Latte right in the comfort of your own home and for way less money. You just need four ingredients and it can be made hot or cold! You are gonna be sipping on this new favorite every morning.
Pistachios bring great flavor to so many recipes. If you love that pistachio flavor, then you might love to bake our Pistachio Pudding Cookies, they have an amazing chewy texture. Or make these green Pistachio Muffins, they have the perfect crumb and are full of flavor.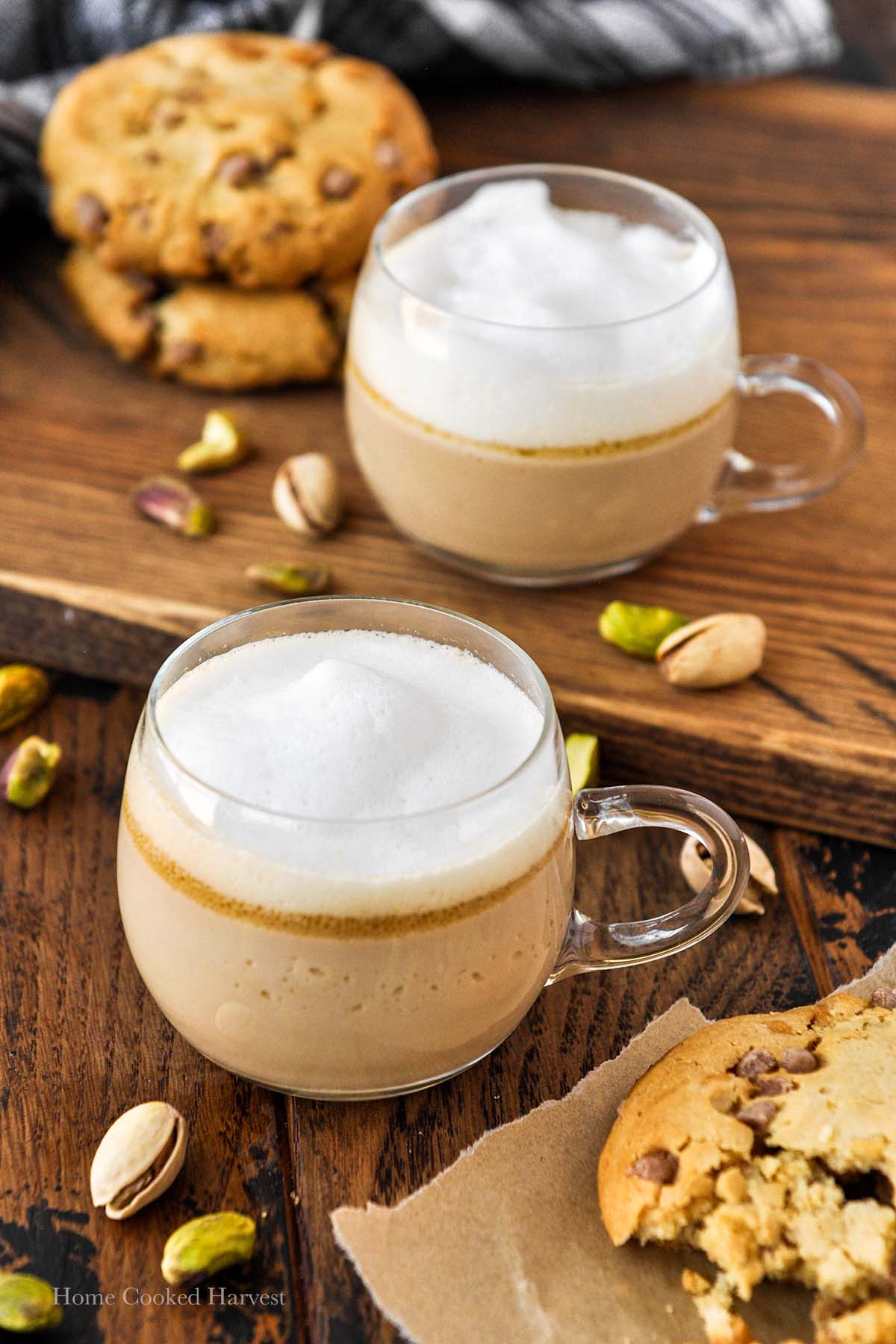 Start your day off right with a frothy, light as air pistachio latte. Or add it to your afternoon to get you out of that after lunch slump.
If you are feeling adventurous and are stuck in a rut making the same coffee drinks on repeat, why not try this pistachio coffee beverage? It might surprise you.
This Starbucks pistachio latte copycat recipe has been my go-to drink lately, especially since I just made my own homemade pistachio syrup ( it's a lot simpler to make than you may think). I highly suggest making your own, but if that isn't your thing, you can definitely buy it instead.
Who could pass up the cozy flavors of sweet pistachio made into a hot coffee drink? I think the homemade version is better than Starbucks.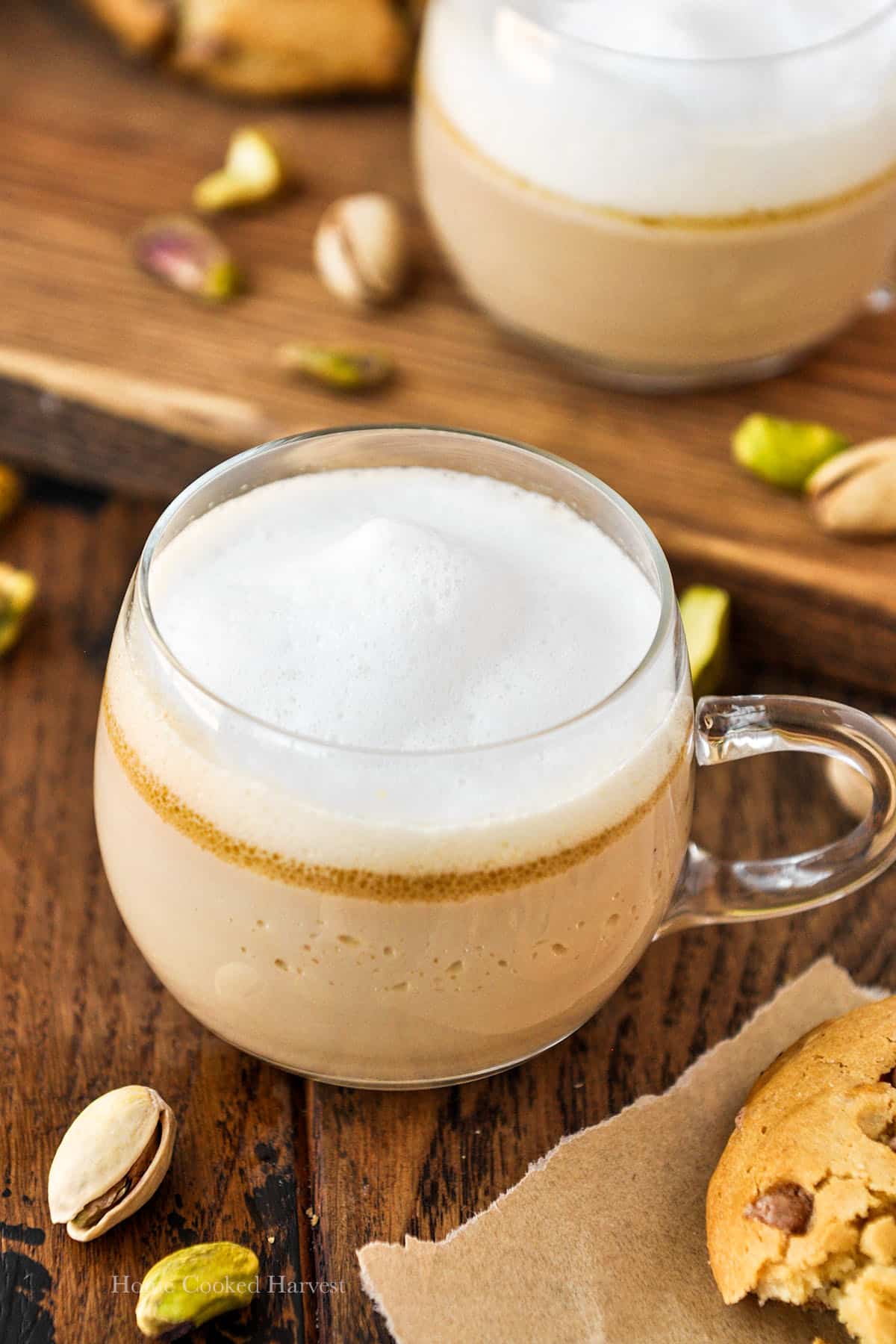 And it is so easy to make at home just pour the espresso in your mug and stir in the rich brown butter and pistachio syrup. Top with steamed milk and a sprinkling of crushed butter cookies.
Or chop up some real pistachios to put on top, you can make them as coarse or fine as you like.
Voilà, completed latte to get you that burst of energy you desperately needed.
I have been on a bit of a pistachio kick lately, making all of the pistachio recipes. I just love how versatile those little green nuts are (and their flavor is amazing).
What is a Pistachio Latte?
It's a latte with pistachio flavoring!
This pistachio latte is hot espresso combined with a sweet syrup and swirled with brown butter and creamy hot milk. It is made exactly how Starbucks makes theirs.
Another favorite is this Starbuck hazelnut cocoa!
What does a Pistachio Latte Taste Like?
This latte is creamy with a little bit of nutty flavor from the pistachio coffee syrup. You can definitely taste the espresso. I personally think it tastes just like the one from Starbucks.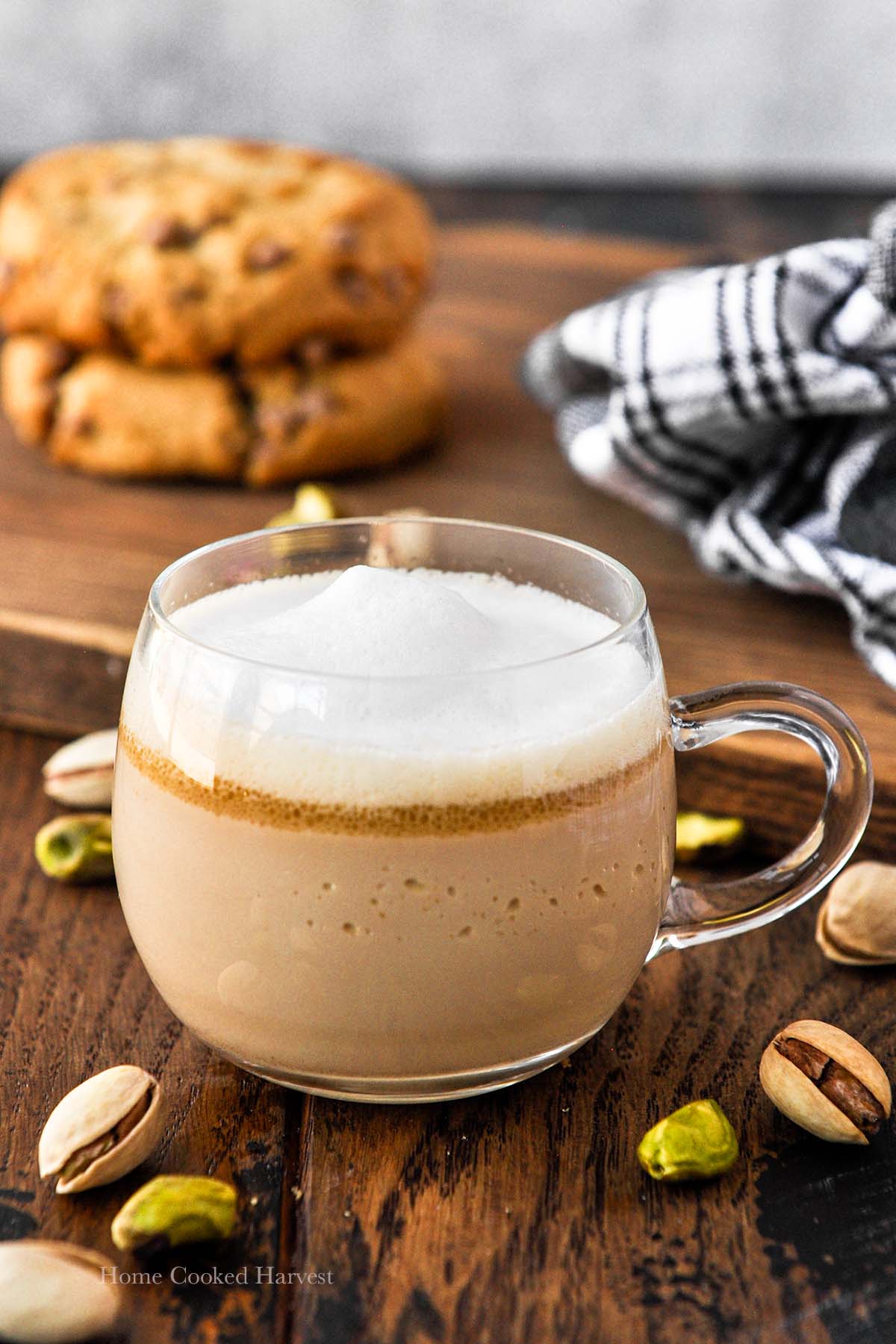 Do I need an Espresso Machine?
The ever important question. You do not need to have an expensive automatic espresso machine to make this coffee drink. But, if you don't have one, you do need an acceptable substitute to make espresso such as an AeroPress, Moka pot, manual espresso machine or French Press.
If you don't want to use espresso, you can definitely use a very strong coffee. The flavor just won't be as strong without the espresso.
Do I need a Milk Steamer?
I was so ecstatic when I learned that you do not have to go buy an expensive machine with that little milk frothing attachment just to froth milk. No special equipment needed, just a mason jar with a well fitting lid. Just heat the milk and then shake it until it gets frothy. Or you can use a handheld milk frother which is what I have or an immersion blender.
Pistachio Latte Ingredients
Here are the simple ingredients needed to make your own pistachio latte. Check out the recipe card for full ingredient amounts.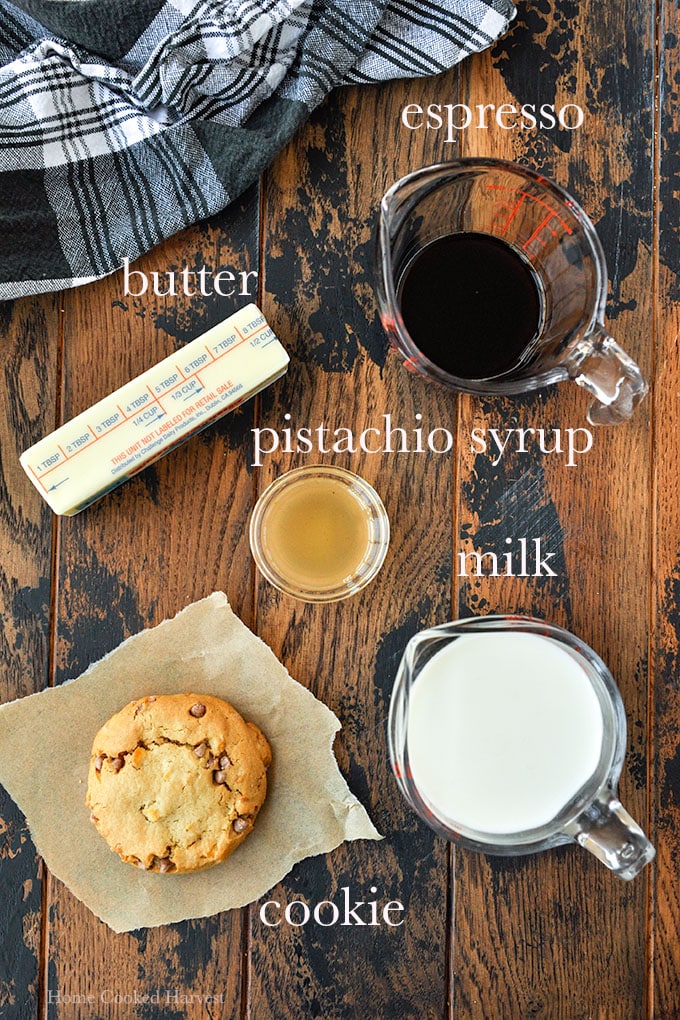 How to Make a Hot Pistachio Latte
Normally, this is a seasonal pistachio latte at Starbucks. Now, you don't have to wait because you can make it yourself. Here are the basic instructions to make this easy recipe. Check out the recipe card at the bottom of this blog post for full instructions.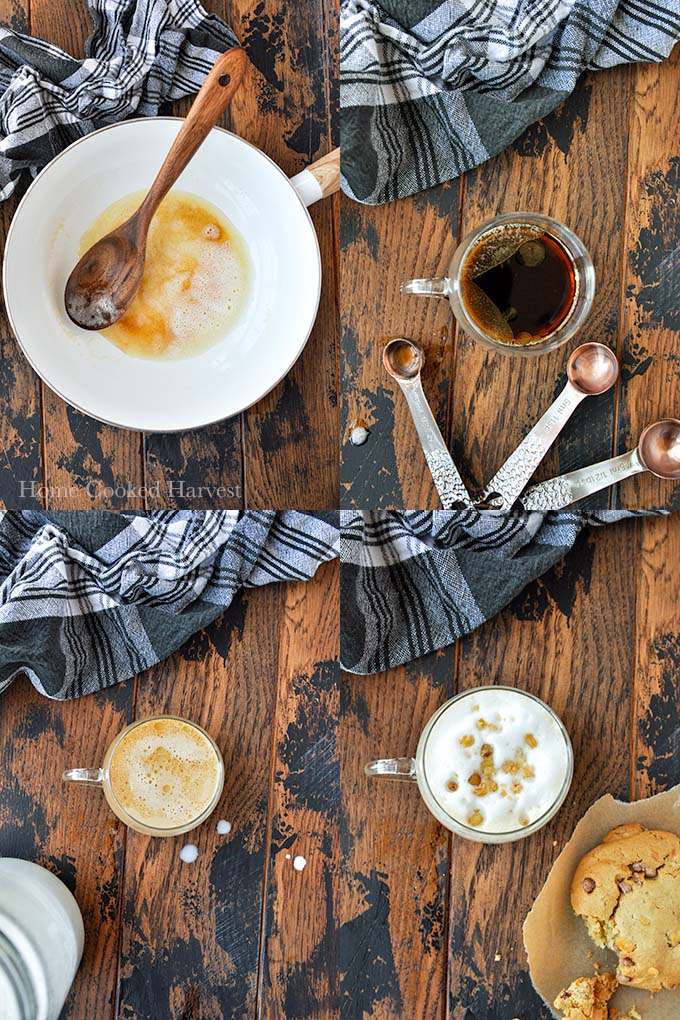 How to Make an Iced Pistachio Latte
Easily make this an iced latte, by adding in ice cubes to the finished latte. Just make sure you use a tall glass to accommodate the ice.
Recipe Variations
Frequently Asked Questions
Do I need an espresso machine to make this drink? You don't need an espresso machine, but you will need something to make the espresso like an Aeropress or a Moka pot.
Does a pistachio latte have caffeine? Yes, this drink has caffeine unless you use decaffeinated coffee beans.
Do I have to use Starbucks coffee? No, you can use whatever your favorite coffee is.
Do I have to add the browned butter? Starbucks makes theirs with brown butter, but I would say this is optional. You can leave it out if you do not want to deal with the extra step.
Can I use non-dairy milk? Yes, you can heat up any plant-based milk like oat milk, almond milk, or coconut milk to add to your latte. It may not foam as well as whole milk.
How to Store & Reheat
Let the latte cool and put in an airtight mason jar or container with a lid. It should last about 1-2 days in the fridge.
How do you reheat the latte? Just pop it into the microwave for 30-45 seconds to reheat.
Can I Freeze a Pistachio Latte?
How to freeze latte? Let the latte cool completely before putting into an air tight, freezer safe container or pouring into an ice cube tray. It can be frozen for 3 months, just be sure to label with the recipe and date.
How to thaw latte? Thaw frozen latte in the refrigerator overnight until defrosted.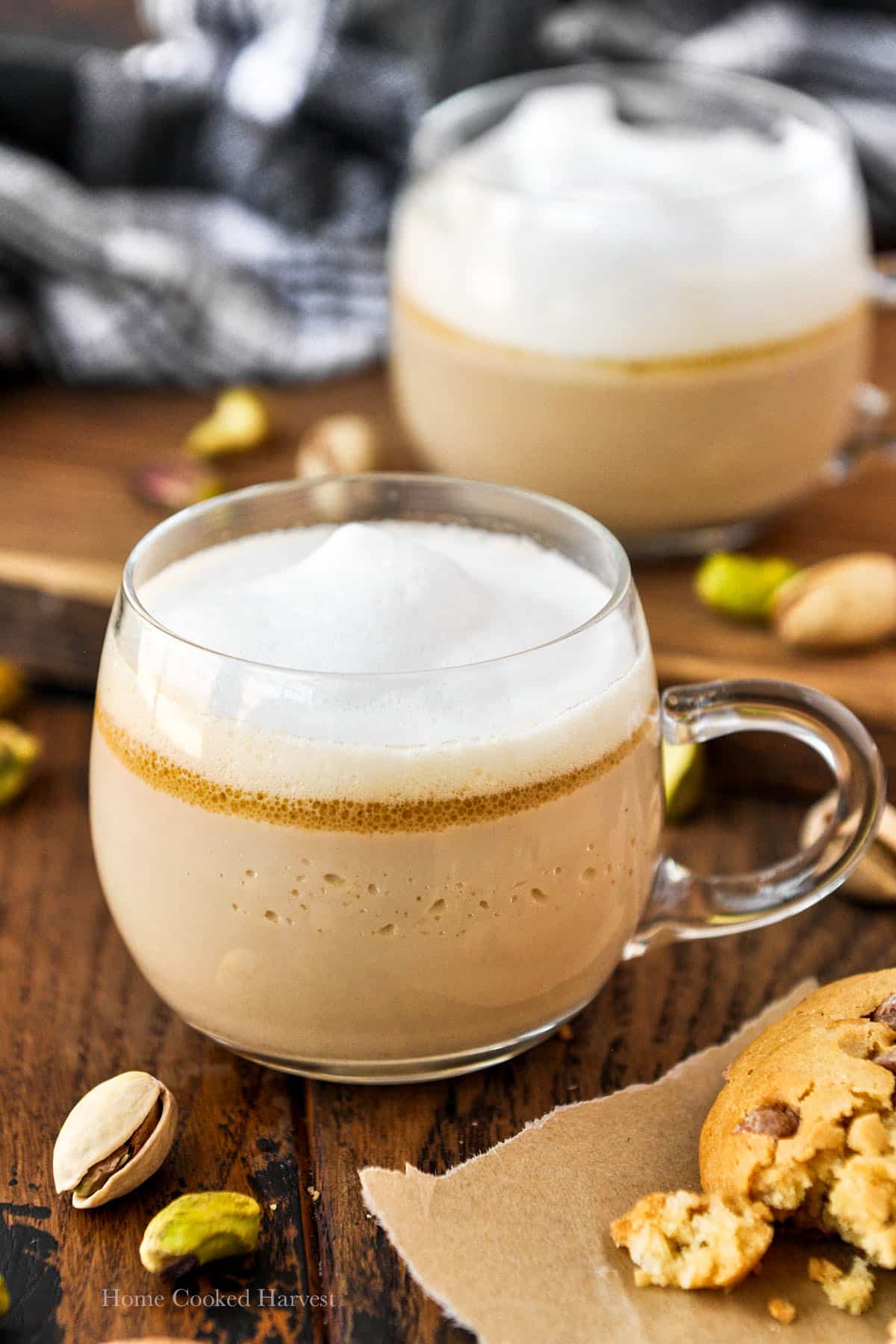 Try these other pistachio recipes!
If you've tried this Starbucks copycat pistachio latte recipe, don't forget to give me a star rating and leave me a comment below in the comment section. I love to hear from people who have made my recipes!
NEVER MISS A RECIPE!
Follow me on social media for more recipe ideas & inspiration!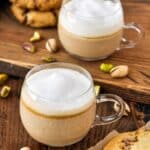 Print Recipe
Starbucks Copycat Pistachio Latte
Make this cozy Pistachio Latte right in the comfort of your own home and for way less money. You just need four ingredients and it can be made hot or cold! You are gonna be sipping on this new favorite every morning.
Ingredients
1/4

cup

unsalted butter

1

ounce

espresso shot

2

tablespoons

pistachio syrup

8

ounces

whole milk

1

teaspoon

crushed shortbread cookie
Instructions
Slice up the butter into a few pieces. Over medium or medium low heat, add butter into a light colored pan. Whisk frequently, it will foam up and start separating. It will look like lightly golden brown melted butter with some brown specks at the bottom.

When the butter has a nutty aroma and the foam subsides it is done, remove from heat immediately. Make sure not to overcook/burn. Store extras in the fridge in an airtight container.

Make the espresso with your chosen method.

Pour milk into a glass mason jar and microwave for 1 1/2 minutes. Place a tight fitting lid on the jar and shake vigorously (may need a towel if it's hot) until it's bubbly. Or use a frothing wand in the jar to create the foam. 

Pour the espresso into a large cup or mug. Stir in the pistachio syrup and 1/2 tablespoon of the brown butter. Pour warmed milk over the espresso mixture and top with the foam.

Garnish the latte with 1 teaspoon of crushed cookies or finely chopped fresh roasted pistachios if you would like.
Notes
The brown butter is optional and I think the latte is also good without it. If you are short on time (or wanting less calories) skip the butter.
Optional toppings. Instead of topping the latte with crushed shortbread cookies, sprinkle on some chopped roasted pistachios or even ground pistachios.
Make an iced version. Make this an iced latte just by adding ice to the completed drink.
Pistachio syrup substitutions. Use a sweet pistachio sauce instead of the syrup. You could even use maple syrup or brown sugar in a pinch.
Extra shots of espresso. Want it even more potent? Add in more than one shot of espresso.
* Please note that all nutrition information are just estimates. Values will vary among brands, so we encourage you to calculate these on your own for most accurate results.

 
* Please note that all nutrition information are just estimates. Values will vary among brands, so we encourage you to calculate these on your own for most accurate results.

 
Nutrition
Calories:
272
kcal
|
Carbohydrates:
43
g
|
Protein:
8
g
|
Fat:
9
g
|
Saturated Fat:
5
g
|
Polyunsaturated Fat:
1
g
|
Monounsaturated Fat:
2
g
|
Cholesterol:
27
mg
|
Sodium:
131
mg
|
Potassium:
402
mg
|
Fiber:
0.1
g
|
Sugar:
41
g
|
Vitamin A:
372
IU
|
Vitamin C:
0.1
mg
|
Calcium:
285
mg
|
Iron:
2
mg
Did you make this recipe?
Please let me know how it turned out!
I love hearing from you! Share a picture of the recipe on Instagram and hashtag it #homecookedharvest.